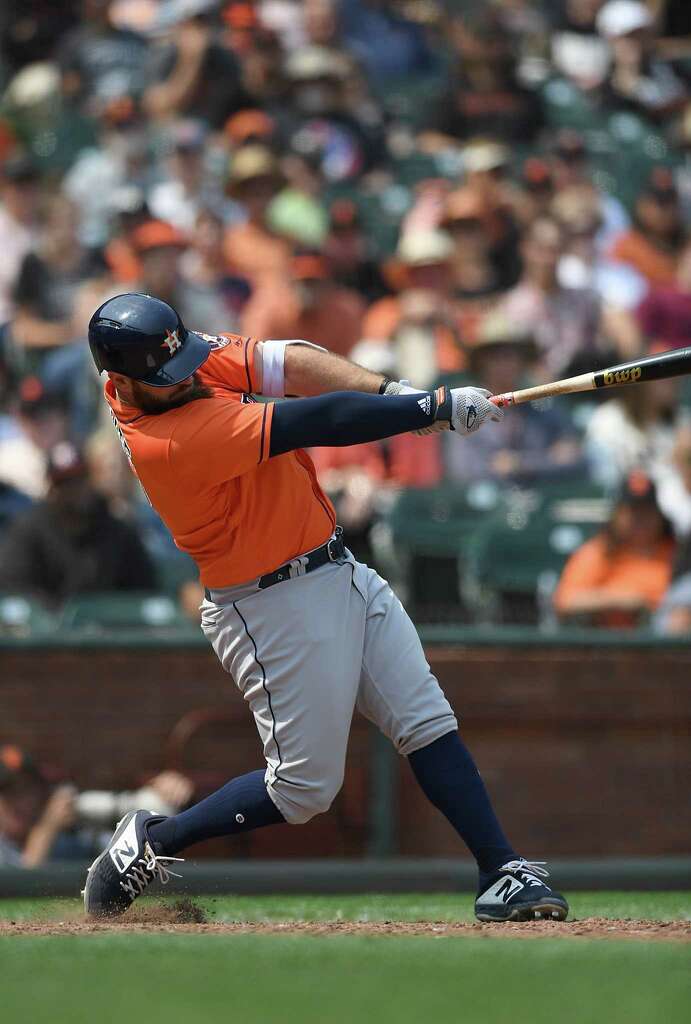 White: Rocket launcher
(c) Getty Images
(Let's see what the snowflakes at Twitter do with that headline)
May we have a moment of silence, please, for the starting pitchers of the San Francisco Giants. How disheartening must it be to toss 14 shutout innings at the World Champions (or a reasonable facsimile thereof) and come away with two losses.
Thank you.
Just as Dereck Rodriguez did the night before, Madison Bumgarner toiled through seven innings with seven goose eggs to show for it Wednesday afternoon by the Bay. "MadBum" put on a magic act, extracting himself from two triples and a double plus three stolen bases to hand a 1-0 lead over to his bullpen.
Enter Ray Black and Tyler White. The Giants' reliever gave up a double in the eighth to last night's star, Marwin Gonzalez, before White struck Black's 99-mph fastball over the left field fence for a two-run game-winning home run that completed a season sweep of the "Jints".
Dallas Keuchel allowed three hits over six innings but one of them was a single in the second by Chase d'Arnaud that plated Brandon Crawford for a 1-0 lead Bumgarner amazingly held.
Without a designated hitter and with a day off upcoming, Manager A.J. Hinch mixed and matched five different relievers over the final three frames with Joe Smith claiming the win and Hector Rondon notching his 13th save.
The 2-1 victory pushed the Mariners back to 7-1/2 games in arrears while Oakland is trailing the Dodgers as they recreate the 1988 World Series. As a bonus, the Astros got through an entire game without injuring anyone.
Now the Champs can rest as they fly back to Houston on Wednesday. They'll begin their six-game homestand on Thursday with a great matchup. Justin Verlander (11-6) battles Seattle's James Paxton (9-5) in the 7:10 pm Central series opener. Paxton is 3-0 in three starts against the Astros this season.
- Bob Hulsey