August 15


2009 - Kazuo Matsui beats out an infield single in Milwaukee for his 2,000th career hit combined from his career as a star shortstop in the Japanese majors as well as his six years in the National League. Play is stopped as Japanese officials recognize Matsui's automatic induction into Japan's Meikyukai, similar to our Hall of Fame. The event gets live television coverage back in his homeland. The Astros, however, fall in a 6-2 defeat.
2004 - Down 4-2 in the ninth, the Astros rally for three runs to nip the Expos, 5-4. Jason Lane and Orlando Palmeiro deliver RBI singles. Carlos Beltran delivers a two-run homer in the first. With a record of 57-60, Houston is 19-1/2 games in back of St. Louis and six games behind wild card leaders Chicago and San Francisco. The ninth-inning rally sparks a two-month run unmatched in franchise history.
1980 - In the 20th inning, the Padres play good hosts, giftwrapping a rally so Houston can celebrate a 3-1 victory. An error by Ozzie Smith puts Luis Pujols aboard, a late throw to second moves him up then Jerry Mumphrey muffs a fly ball from Terry Puhl to bring in the winning runs. Rookie Dave Smith, a San Diego product, pitches the final four innings for the win, ending the 6-1/2 hour marathon.

1977 - Art Howe's first-inning grand slam keys a six-run first inning on Houston's way to a 15-3 laugher in Atlanta. Rob Sperring and J.R. Richard also launch bombs before the Astros wait through a rain delay with a 15-0 lead. Sperring gets four hits. Dan Larson tosses four innings of relief for the "save".
1970 - Don Wilson hurls a 16-hitter during a 7-3 victory in Montreal. That's no typo. Wilson caps a five-run first inning with an RBI single and this lead lets him stay in the game as he dodges Montreal's bullets all day. Fred Gladding is summoned to get the final out after Wilson allows three straight hits with two out in the ninth.
Rosters
Stats
Schedule
Official Websites
Daily Astros news
Baseball history
Astros-related charities
Historical fansites
Blogs and Fora
Merchandise
Baseball Simulations
AUGUST CALENDAR

Date      Opp      Result
8/01     @SEA*     W 8-3
8/02      off        --
8/03     @LA       W 2-1
8/04     @LA      W 14-0
8/05     @LA*      L 3-2
8/06     @SF       W 3-1
8/07     @SF*      W 2-1
8/08      off        --
8/09      SEA      L 8-6
8/10      SEA      L 5-2
8/11      SEA      L 3-2
8/12      SEA*     L 4-3
8/13      off        --
8/14      COL      L 5-1
8/15      COL       ----
8/16      off        --
8/17     @OAK       ----
8/18     @OAK*      ----
8/19     @OAK*      ----
8/20     @SEA       ----
8/21     @SEA       ----
8/22     @SEA*      ----
8/23      off        --
8/24     @ANA       ----
8/25     @ANA       ----
8/26     @ANA*      ----
8/27      OAK       ----
8/28      OAK       ----
8/29      OAK*      ----
8/30      ANA       ----
8/31      ANA       ----
      
* - day game.

April record:  20 - 10
May record:    16 - 12
June record:   19 -  8
July record:   13 - 11
August record:  5 -  6

AstrosDaily.com is tested on Internet Explorer and Mozilla Firefox. It is designed to look best at either 800 x 600 or 1024 x 768 resolution.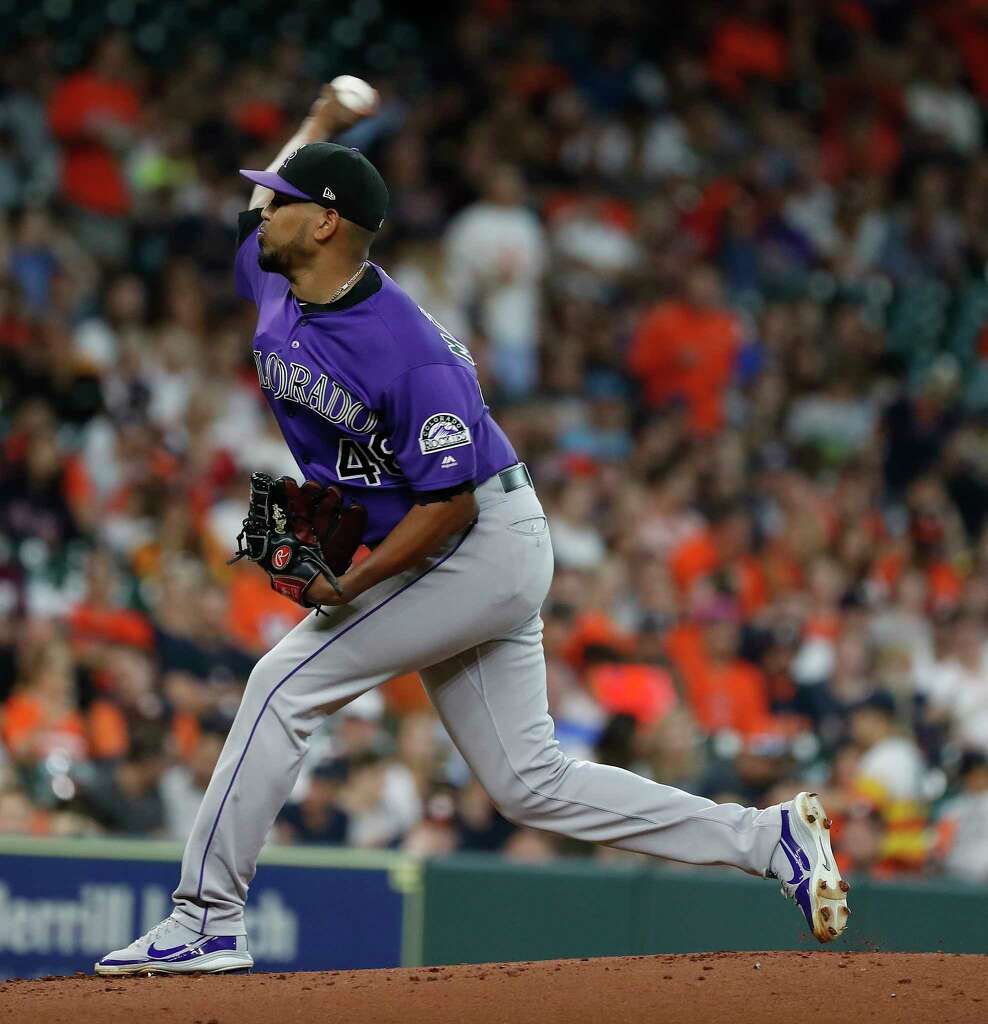 Marquez: Three-hitter over seven

(c) Karen Warren/Houston Chronicle

The Astros need to put their offense in the Lost and Found. A three-hit performance by German Marquez was enough that even Justin Verlander couldn't withstand it. Houston and Verlander lost to Colorado, 5-1, on Tuesday night as the white-hot Oakland A's won again to get within a game of first place in the AL West.

Verlander actually shut the hard-hitting Rockies out for the first five innings and took a 1-0 lead on Josh Reddick's RBI single in the fifth but Nolan Arenado turned the game around with a two-run homer in the sixth that pushed the Astros to a franchise record ninth-straight home defeat.

Colorado played "add on" with single tallies in the last three innings to build on their lead which put them a game behind Arizona and a game ahead of the Dodgers in the wild N.L. West race.

The Astros are 0-5 on the homestand, losers of six straight and looking less like world champions with each time out. The home series mercifully ends Wednesday night with a 7:10 pm Central battle with the Rox. Gerrit Cole (10-5), loser of his last three outings, tries to stop the bleeding as he faces lefthander Tyler Anderson (6-4).

Help is on the horizon. George Springer is expected to come off the disabled list when the Astros travel to Oakland on Friday. Brian McCann will begin an extended rehab assignment Thursday in Fresno. Reliever Chris Devenski is expected back soon if room can be found on the roster for him. There's still no firm timetable on Jose Altuve and his sore right knee.

After a day off Thursday, the Astros will face the Athletics head-on to begin a nine-game West Coast swing that will set the starting positions for the September stretch run.

- Bob Hulsey

Houston's Team Houston's Title (click to order)

Breathing Orange Fire: Jose Altuve
(click to order)

Houston Baseball: The Early Years 1861-1961
(click to order)
Unhealthy Astros host surging Rockies - Stats
2-year-old imitates Astros players' batting stance - KTRK-TV
Arenado belts 30th homer as Rockies subdue Astros - Reuters
Astros haven't been the same team since Altuve was injured - Houston Chronicle
Cole looks to snap losing skid vs. Rockies - Astros.com
Whitley looks strong in return from DL - Astros.com
Astros' top August trade brought in future HOFer - Astros.com
Injury updates: Springer, Altuve, McCann - Astros.com
Verlander fans 11, but Astros' offense stymied - Astros.com
An update on the Astros' array of injuries - Houston Chronicle
Astros have decisions to make at catcher - Houston Chronicle
Astros lose to Rockies as home skid hits record 9 games - Houston Chronicle
Rockies Extend Houston's Woes
- Astros Daily
Astros remained afloat despite injury woes, but without Altuve, they look vulnerable - Forbes
My day covering the Astros with reporter Julia Morales - Sports Illustrated Kids
Despite struggles in August, Astros can still finish strong - Sports Map
Astros are family to Auburn baseball fan - Auburn Citizen
Streaky hitting coincides with Astros' skid - Houston Chronicle
Don't get duped by fake parking attendants for Astros' games - KPRC-TV
How Martinez rose from ashes of Astros release to stardom - NBC Sports
Return of Springer can't come soon enough for struggling Astros [video] - SportsMap
AL West is the best divisional race in baseball - Sports Illustrated
Astros' August shaping up like 2017... almost - Houston Press
It's not time to panic, but Astros could use another bat - SportsMap
Astros have a disappointing 2-4 week as division lead shrinks - SportsMap
Inbox: Are Astros feeling the pressure? - Astros.com
Wounded Santa Fe HS officer John Barnes takes mound at Astros game - Houston Chronicle
Mariners get heroics from Haniger, Healy to complete 4-game sweep in Houston - Seattle Times
Healy, Mariners rally for 4-game sweep of Astros - Associated Press
Former Astros' legends admit nerves still got to them prior to exhibition Home Run Derby - MLB.com
Astros are a perfect example of how weird baseball can be - Sports Daily
Correa, Marwin turn stellar double play - Astros.com
MMP hosts HR derby for Astros legends - Astros.com
Alvarez homers; 4 hits for 4th-rounder McKenna - Astros.com
Marisnick (groin) to miss multiple weeks - Astros.com
Correa keys late rally, but Astros fall in extras - Astros.com
Astros' all-time lineup based on their baseball cards - Houston Chronicle
Marisnick could be out until September - Houston Chronicle
Whitley to start for Class AA Corpus Christi on Tuesday - Houston Chronicle
Scott defeats Biggio to win Alumni Home Run Derby - Houston Chronicle
Astros swept in extra-inning loss to Mariners, extend home skid to 8 - Houston Chronicle
Blown Save Gives M's Sweep Of Astros
- Astros Daily
Marisnick placed on DL; Tucker recalled - Astros.com
Mariners notch third victory in a row - Seattle Times
LeBlanc, Mariners ground Astros again - Reuters
Bregman to host meet and greet Sunday - KTRK-TV
Marisnick lands on DL; Astros call up Tucker - Houston Chronicle
Keuchel looks to take finale from Mariners - Astros.com
Astros host ex-players for Legends Weekend - Astros.com
Morton solid, but Astros' home skid continues - Astros.com
Optimistic Springer won't need rehab assignment - Houston Chronicle
Devenski nearing rehab assignment - Houston Chronicle
MMP drought continues with Astros' loss to Mariners - Houston Chronicle
Astros' all-time lineup based on their baseball cards - Houston Chronicle
Punchless Astros Drop 3rd Straight
- Astros Daily
Photos: Mariners, Astros throw back to 1979 - SportsLogos.net
Cruz's double in 8th helps Mariners beat Astros - Associated Press
Cruz's double in 8th helps Mariners beat Astros 5-2 - Seattle Times
Morton, healing Astros host Mariners - Stats
Angels tentatively scheduled to face Astros in Mexico in 2019 - OC Register
Post Oak Little League team meets Astros ahead of World Series run - KPRC-TV
Altuve to miss rest of Astros' homestand - Houston Chronicle
Astros' trade for Osuna puts MLB domestic-violence policy in spotlight - New York Newsday
Astros legends to take part in home run derby before Sunday's game - KPRC-TV
Faith helps ex-Astro JR Richard after stroke, homelessness - Sacramento Bee
Morton eyes more success vs. Mariners - Astros.com
Altuve to run, test injured knee over weekend - Astros.com
Astros, Mariners bust out throwback unis - Astros.com
Correa returns vs. Mariners after 6 weeks out - Astros.com
Astros fall to M's, drop 6th straight at home - Astros.com
Astros taking advantage of Martin Maldonado's defensive prowess - Houston Chronicle
Hinch asks MLB for clarity with Verlander's balk - Houston Chronicle
Marisnick exits Astros game with injury - Houston Chronicle
Astros' offense offers little support in loss to MaAstros, Mariners bust out throwback unisriners - Houston Chronicle
Cruz Crushes Astros, 5-2
- Astros Daily
Mariners jump on Verlander early in 8-6 win over Astros - Associated Press
Correa expected back to face Mariners - Stats
Post Oak Little League to meet Houston Astros before World Series - KTRK-TV
Mariners jump on Verlander early in win over Astros - Seattle Times
Top third of Mariners' order takes down Astros - Reuters
Trio of prospects could help down the stretch - Astros.com
Cole to face M's with Correa set to return - Astros.com
Astros' nicknames for Players' Weekend - Astros.com
Correa set to return tonight after 6 weeks out - Astros.com
Verlander ejected after allowing 6 runs in loss - Astros.com
Astros believe batting was the culprit of McCullers' injury - Houston Chronicle
Osuna's role to develop slowly with Astros - Houston Chronicle
Verlander stumbles in Astros' loss to Mariners - Houston Chronicle
Verlander Stunned, Thumbed, Bummed
- Astros Daily
Justin Verlander says Kate Upton saved his career – and life - USA Today
Short-handed Astros are showing us why we should #NeverSettle - SportsMap
Correa completes stint with Hooks, Whitley progressing - Corpus Christi Caller-Times
The Astros' emerging superstar - FanGraphs
Astros bullpen served notice with a dominant eight-game stretch - Forbes
How will Astros fans react to Osuna's first home appearance? - SportsMap
Despite injuries, this Astros team is better than 2017 so far - Houston Press
Astros' leader in helping others? The Alex Bregman he won't let you see - The Runner Sports
Correa drives in run as Hooks win - KIII-TV
No Astros piece more important than A.J. Hinch - Houston Chronicle
Red Sox to play Astros on Sunday Night Baseball on Sept. 9 - Springfield (MA) Republican
Astros officials to meet with domestic violence groups - Houston Chronicle
Banged-up Astros brace for Mariners - Sports Xchange
Astros have array of fifth-starter options in McCullers' absence - Houston Chronicle
Astros vs. Mariners preview - Sports Chat Place
World Series 2018 odds: Red Sox only slight favorites, Astros, Dodgers, Yankees are top contenders - International Business Times
Correa likely to return in weekend series - Associated Press
Correa plays with the Hooks on rehab - Corpus Christi Caller-Times
Tucker homers again for Fresno - Astros.com
Biggio to compete in Astros' Legends Weekend HR Derby - Houston Chronicle
Verlander faces first opportunity for 200th career victory - Houston Chronicle

Key Features
History & Stats
Misc
If you'd like to help AstrosDaily.com with writing, stats, web design or financial upkeep,

contact me

.

- Bob Hulsey